Nick Leason racing in the BTCC
---
---
Bio Diesel BMW Team Announce Plans
to Run Two Cars in 2008
With Drivers Kerry & Leason
Nick Leason and Rick Kerry hope to join forces in a two car assault in the 2008 HIQ MSA British Touring Car Championship using the newly developed Bio Diesel BMW 120D.
Team AFM and NJL Racing have announced plans to run a two car Bio Diesel Team. With development underway already the Team have been able to get on board a group of companies that are helping to achieve the development of the car to the next level of performance and competitiveness for 2008.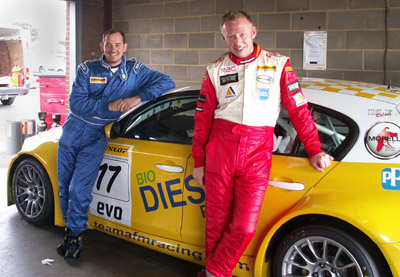 Kerry raced a BMW 120D Bio fuel last year concentrating on reliability, which he showed throughout the season. Leason however had a very disappointing and frustrating second year in the BTCC, racing a Lexus that unfortunately saw Leason parked up on the side of the track most of the time due to unreliability engine problems…
Team AFM approached Leason towards the end of last season to work with Kerry to develop and test the car to the next level for 2008.
Kerry had an impressive season in 2007 to achieve what he did with the first Diesel car in Touring car history. But now wants to improve with performance and results for 2008 which they feel they can both achieve during the season.
Leason and Kerry hope to start their testing programme at the end of January.