BTCC racer Nick Leason will be driving for Wiesmann up the famous hill at the 2008 Goodwood Festival Of Speed from Friday 11th to Sunday 13th July.
Over the three days of action Leason will drive for Wiesmann in the new GT MF5 up the challenging 1.16-mile Goodwood hill-climb at Goodwood Park. This is the latest individual sports car from Wiesmann in Germany and a true puristic handmade sports car.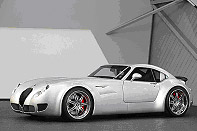 This will be the first appearance of a BMW V10 powered Wiesmann in the UK, and the first attendance at Goodwood for Wiesmann Ltd.
Wiesmann is one of the best kept secrets in the sports car world and this is a major step in raising awareness in the UK. The model range currently includes the MF3 Roadster, MF4 GT and now the MF5 GT. The GT is now available in RHD and next year as a convertible.
"To be attending Goodwood is an exciting opportunity and to have a driver of Nick's calibre is great for all involved with Wiesmann in the UK….passenger rides for potential customers or journalists will now take on a new perspective"
Leason added "I am looking forward to having the opportunity to drive at the Goodwood Festival of Speed for Wiesmann. This is a great privilege to be driving up the most famous hill in the world and a goal I can now tick of my list."
BTCC driver Leason is due to be racing a BMW Diesel with Team AFM Racing, but due to technical developments on the car, Nick will be joining the BTCC later this year.
Wiesmann Ltd will welcome anyone interested in their range of cars to visit them at Goodwood
For more information or photos contact:
Neil McDonald - Tel:0044 (0)7767688233 Fax: 0044(0)208 449 8999 Email: info@wiesmann.co.uk
Germany www.wiesmann-mf.com , UK www.wiesmann.co.uk