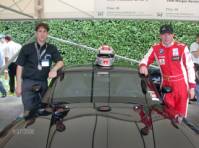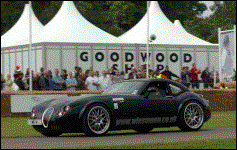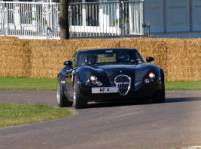 An action packed weekend, with a mix of some of the best machinery past and present was on display at Goodwood driven by experienced and successful drivers of all motoring disciplines.
It was hard work, but enjoyable.  Nick Leason did the job of powering up the hill and entertaining the crowds and marshals with the superb handling and wonderful sound of the V8 MF4.  We received some great responses from the crowds of people who took videos, and photos of the car.  Wiesmann is now not such a secret in the UK.
We were pleased to have the opportunity to meet and discuss options for the Wiesmann range of cars, MF3, MF4 and the new MF5 whilst the car was parked in the Supercar paddock.
Leason added "It was a great enjoyable experience and opportunity driving for Wiesmann at Goodwood FOS and I am now looking forward to driving the V10 MF5"
This was Wiesmann's first appearance at Goodwood and we were all impressed with the hospitality from Goodwood and also how helpful and friendly the marshals and Goodwood staff were.  This made the weekend an enjoyable experience.
We now look forward to the British Motor Show at Excel which runs from the 23rd July to 3rd August, as its indoors unfortunately  we won't have the opportunity to demonstrate the cars full potential as at Goodwood.
Thanks to everyone who has supported us so far and all the positive comments regards the product and Wiesmann brand.
This will be the first appearance of a BMW V10 powered Wiesmann in the UK, and the first attendance at Goodwood for Wiesmann Ltd.
Wiesmann is one of the best kept secrets in the sports car world and this is a major step in raising awareness in the UK.  The model range currently includes the MF3 Roadster, MF4 GT and now the MF5 GT.  The GT is now available in RHD and next year as a convertible.
"To be attending Goodwood is an exciting opportunity and to have a driver of Nick's calibre is great for all involved with Wiesmann in the UK….passenger rides for potential customers or journalists will now take on a new perspective"
Leason added "I am looking forward to having the opportunity to drive at the Goodwood Festival of Speed for Wiesmann. This is a great privilege to be driving up the most famous hill in the world and a goal I can now tick of my list."
BTCC driver Leason is due to be racing a BMW Diesel with Team AFM Racing, but due to technical developments on the car, Nick will be joining the BTCC later this year. 
Wiesmann Ltd will welcome anyone interested in their range of cars to visit them at Goodwood
For more information or photos contact:
Neil McDonald - Tel:0044 (0)7767688233 Fax: 0044(0)208 449 8999  Email: info@wiesmann.co.uk
 Germany www.wiesmann-mf.com , UK www.wiesmann.co.uk