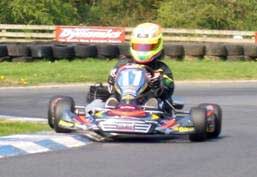 This weekend will see Northamptonshire's young karting star Cameron Leason racing closer to home for the second round of the British Super One Kart Championship at Shenington near Banbury.. Cameron has got off to a great start lying 3rd in his first year in the championship in the rookie class though he suffered from a few issues with lack of power in the first round which was held at PFI in Lincolnshire. He was able to still gain valuable points and finish the race finals..
"We have been busy leading up to the second round of the championship looking at a solution with our TAG engines and have now tested a DD engine which we will now use for the rest of the season along with our latest TAG engine. It has shown the power were we require it and hopefully help us this weekend to make us a stronger all-round package.. The Championship is so competitive and you must keep finishing the races and gaining points as it's so close. Cameron added.
Also in-between the testing Cameron invited one of his sponsors -James the owner of Chung Ying Restaurants down to one of his favourites and his local track for a insight into Karting and a chance to give James an opportunity to have a go around one of the circuits Cameron will be racing on in the Super One Championship – His local track Whilton Mill.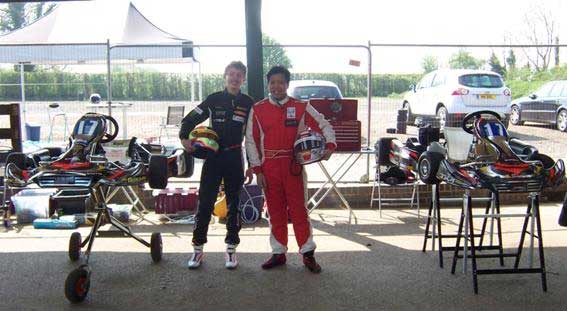 James said "It was a fantastic opportunity to get a real insight of what these guys go through and how fast they go, it's crazy speeds and they are just a few inches off the ground! It was great to have a chance to have a go and thank Cameron and the NJL Racing Team for a great experience. It's such a great opportunity to be supporting Cameron, his a great lad and wish him all the best for the second round at Shenington this weekend..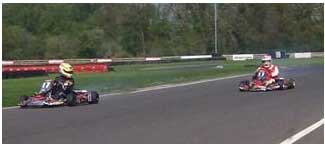 With the support from Chung Ying Restaurants / Shell Racing Solutions / 6th Gear Experience/ Showtrax / Talko / Monster Energy and Sabelt, Cameron will now concentrate on the next round of the British Super one Championship which will be held at Shenington near Banbury on the 6th/7th/8th May.
The British Super One Championship
The British Super One Championship is the pinnacle kart championship in the UK which F1 stars like Jenson Button, Lewis Hamilton and David Coulthard all successfully competed in their step towards Formula One. Cameron has great determination to follow in their footsteps as a successful British race driver.
The 2011 British Super One Calendar:
Round 1 - 20 March PF International
Round 2 - 8 May Shenington
Round 3 - 12 June Glan y Gors
Round 4 - 3 July Larkhall
Round 5 - 21 August Clay Pigeon
Round 6 - 11 September Rowrah
Round 7 - 9 October Whilton Mill
If you require more details and interested in supporting Cameron please contact: nick@njlracing.com or Telephone 07774 891435.
About Cameron Leason in 2011:
Cameron aged just 14 has demonstrated the skills and determination to succeed in motorsport. In just his first year of Karting competing in a full championship achieved 9th out of 36 drivers overall in the Junior TKM Championship at Whilton Mill and the first TAG engine kart to be in the top ten.. Finished a credible 8th overall in the final of the TKM Festival in 2010 and achieved his Karting national A Licence. Now he has a great opportunity to compete in the 2011 British Super One kart Championship which F1 stars like Jenson Button,  Lewis Hamilton and David Coulthard all successfully competed in their step towards Formula One.
About Chung Ying Restaurants:
Chung Ying Garden is one of the largest and most popular Chinese Restaurant in the Midlands. Established since 1987, the restaurant was formed on the back of the success of its sister restaurant, the Chung Ying. Situated at the heart of Birmingham's "China Town". Here you can choose from a huge range of authentic Cantonese dishes including a wide variety of dim sum.
If any companies are out there that would like to support Cameron or for more information and photos please contact: nick@njlracing.com  or phone 07774 891435.

Websites: www.chungying.co.uk  / www.njlracing.com  /  www.cameronleason.co.uk  /  www.s1series.co.uk
Contact: nick@njlracing.com