Cameron Leason racing in the SuperOne Kart Championship
---
---
Northampton's Campion School Kart Team Races Through to Win Regional Semi Finals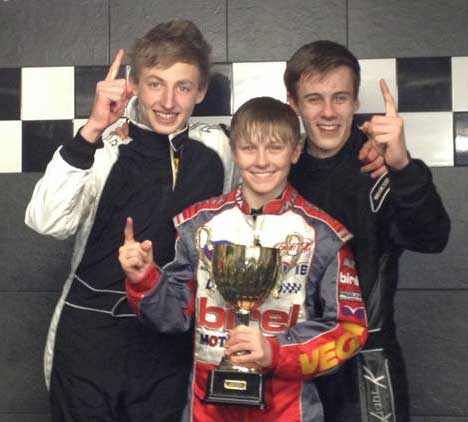 It was a great Semi finals for the Campion School kart team as they raced to win coming 1st in the British schools Karting Championship Semi Final which was held at Northampton Indoor Karting on Thursday evening. Team Campion drivers consisted of Cameron Leason, Ronan McKenzie and Ben Matthews which all achieved podium finishes in all their Six races during Thursday evening racing against other Northamptonshire Schools. Team Campion have now successfully qualified for the Midland Regional Final which is to be held at Whilton Mill on Saturday 10th March. All three boys compete in major kart Championships racing outside of the BSKC with Ben competing in Junior Rotax Max, Cameron competing in the British Super One Championship, Ronan competing in the British Easykart Championship.
All three boys commented " It was such a great experience for us all to be competing as a team for our School and hope we have done them proud getting the Campion School name out there! The karts in the BSKC are so completely different to drive compared to our race karts we compete in as they lack power so you have to keep the momentum going at all times or you just bog down which is great as it's not all about just talent, so anyone can compete. The BSKC is a great championship for schools to compete against each other and get a chance to race, they do a great job. We just can't wait now to get to Whilton for the Finals as it's an outside track to which we are all use to, bring it on!"
About BSKC: www.bskc.co.uk
The British Schools Karting Championship 2012 is open to any school or college student aged 13 - 18 (as of 1st January 2012).The championship is a team based sport.Teams must consist of exactly 3 drivers from the same school / college.Each team will enter in to a mandatory practice session (20 mins per driver) and a semi-final at your local participating circuit. The best teams in each region from the local semi-finals will qualify directly to the regional finals. Those teams that are successful in the regional-finals will be invited to race in the national-final and have a shot at being crowned the British Schools Karting Champions of 2012.
The Regional Finals:
The best teams from the semi finals are invited back to race in the Regional Finals! There are 10 special circuits hosting the regional finals; one in each main area of the country.
The format of the racing will be same as in the semi final and local finals.
The National Final:
Those teams that are successful in the regional-finals will make it through to the National Finals!
The national final is to be held at Daytona Milton Keynes at the end of March 2012.
If any Local companies are out there that would like to support Team Campion or for more information and photos please contact: nick@njlracing.com  or phone 07774 891435.
Websites: www.bskc.co.uk