Cameron Leason racing in the SuperOne Kart Championship
---
---
Cameron Sets Good Pace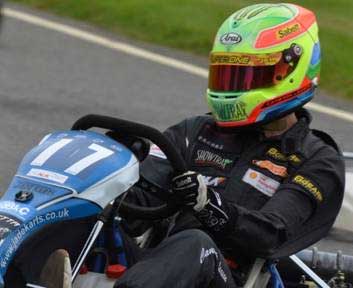 This weekend saw NJLRacing's young kart star Cameron Leason return for his second season to compete in the first round of the 2012 British Super One Kart Championship at PFI near Lincoln in which he competed in the championship last season as a Rookie.
Leason showed outstanding pace during practice and changeable conditions resulting being 4th  quickest in free practice out of 31 drivers on Sunday. Unfortunately technical issues with a faulty exhaust saw Cameron down the grid in qualifying as a result in lack of bottom end power! Still Cameron  qualified 21st and managed to battle up to 11th place in the race before he was the victim of a race incident going into one of the hairpins which resulted in him and his kart being launched into the air and damaging his axle and cracking the brake disc in half which put him out of action!
Cameron added "I was so looking forward to the weekend and the start of the championship. I felt I had learnt so much last season in S1 and we have had good pace on the new Jade kart, so was positive for the season ahead, but unfortunately this was not my weekend right from the start so just happy now to put this weekend behind me and move forward knowing I have good pace to get some good results at the next round in three weeks time at my local track Whilton Mill in Northamptonshire. Between now and then we will get the kart sorted and if we can get enough budget we hope to get some testing in ready for the next round.."  
Sponsorship packages to support Cameron start at just £350 for the complete season!