Cameron Leason racing in the SuperOne Kart Championship
---
---
Leason's Looking Forward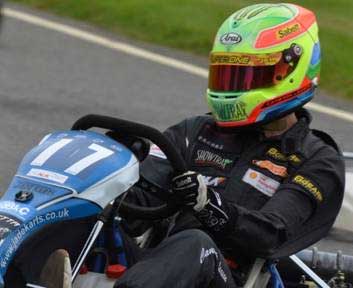 Young kart star Cameron Leason is hoping to put a difficult weekend behind him before the British Super One Championship in which he competes heads to his home track in Northamptonshire next month. Cameron's return to the Championship for a second season last weekend looked promising pre-race, with Cameron recording the fourth fastest time in free practice on Sunday, but a faulty exhaust saw him qualify well down the grid in 21st.
 In the race, Cameron managed to battle his way up to 11th place, before a crash with another competitor who run into him led to retirement with a damaged axle and cracked brake disc on his kart.
 After the race Cameron was philosophical. He said "I was so looking forward to the weekend and the start of the championship. I felt I had learnt so much last season in S1 and we have had good pace on the new Jade kart, so was positive for the season ahead. " But unfortunately this was not my weekend right from the start so I am just happy now to put this weekend behind me and move forward,  knowing I have good pace to get some good results in three weeks time at the next round at my local track Whilton Mill in Northamptonshire. "Between now and then we will get the kart sorted and if we can get enough budget and bring some more sponsorship in, we hope to get some testing in ready for the next round.."  
The British Super One Championship will be at Whilton Mill from May 11th to 13th .
Sponsorship packages to support Cameron start at just £350 for the complete season!