Cameron Leason racing in the SuperOne Kart Championship
---
---
S1 Kart Racer Leason is confirmed for MSA KGP S1 for Rest of Season!
Former S1 Junior TKM racer - Cameron Leason has now been given a fantastic opportunity to race in the MSA Formula KGP series in the S1 package for the remainder of the season.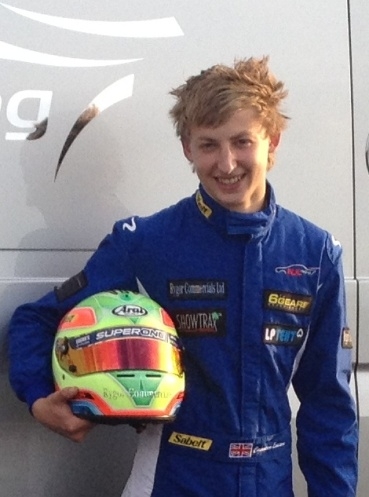 Cameron at just the age of sixteen will be the youngest person to ever race in the MSA Formula KGP series since it first started in Super One Series.. Formula KGP stands for Kart Grand Prix and is the Worldwide karting formula for Italian engine manufacturer BMB and is now in its second season in the MSA S1 Series and with top flight drivers competing at the highest level makes it one of the best entertaining races to watch.. Formula KGP is a very competitive championship that continually produces world class drivers. Providing facilities that are to International CIK level Super One provides a level of competition not found at club meetings or championships running alongside club meetings.
Kart ace Cameron added "I thank those that have supported me and now given me a great opportunity to race in KGP in the S1 Package which is such a surprise. I now have been given a chance to race in one of the quickest and top championships – Formula KGP, I just can't believe how it has all changed in the last week.
I just now hope I can get some extra support from my sponsors as KGP is such a bigger presence and has a great deal of media attention not only in the UK but in Europe as well so they will able to benefit and achieve even more from it".
 I thought hopefully one day I would be able to move up into KGP, but never imagined at the age of sixteen this would happen! I'm just so happy and looking forward to Rowrah in Cumbria this weekend.  It will be a huge jump in the deep end with not having any experience or testing in KGP prior. The karts are more technical and a lot faster but I will relish the challenge for the remainder of the season in KGP and thank Andy Cox from KGP with all his support and help he has given over the last few days... It seems so serial that I will be the youngest person on the grid but just happy to learn and keep improving each meeting this year. We collected  everything on Saturday and now have the job of putting it all together which we will do with the help of Jade karts who's chassis we will continue to use which I am very pleased with."
If you require more details  and interested in supporting Cameron please contact: nick@njlracing.com or Telephone 07774 891435.

Formula KGP stands for Kart Grand Prix and is the Worldwide karting formula for Italian engine manufacture BMB. The class is for drivers 16 years + (or an existing Nat A licence holder who is in the year of their 16th birthday). The KGP concept is simple, a BMB 2 stroke reed valve (TAG) water cooled 125cc engine with centrafugal clutch, push button start. The Championship joined Super One package in 2011 and has been a huge success of top flight racers from all over the world competing to the highest standard which also has the added attraction of a chance to be competing in the KGP World finals in Italy!