Cameron Leason racing in the SuperOne Kart Championship
---
---
Huge Success for Kart Racer Leason in his First KGP MSA S1 Outing
Last Weekend's Formula KGP MSA Super One race weekend at Rowrah in Cumbria was a great success for kart Star - Cameron Leason who only last week had been given a reprieve with a fantastic opportunity to race in the MSA Formula KGP series in the S1 package for the remainder of the season. Against World Class karters, Cameron the youngest person to ever race in the MSA Formula KGP series since it first started in Super One Series did himself justice and surprised many with his pace first time out with his team NJL Racing.
Even with a few initial gremlins having only put the kart together at the very last minute and not being able to even do a test before hand Cameron managed to get the 11th quickest time in free practice and got a credible two 13th places out of 22 drivers in his very first KGP outing in the British Super One Series!   This was a great achievement for Cameron as he was unfortunately unable to qualify due to his problems initially and had to start races from  the back of the grid.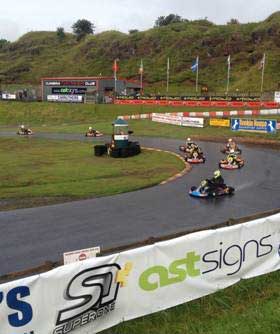 Cameron added " It's been a great first weekend in Formula KGP in S1 for myself and Team NJL Racing and we certainly haven't embarrassed ourselves. I was surprised what we achieved at the weekend as we know it would be a working progress at this high level. We know we have a lot more to come pace wise with my driving style and adjustments to the kart which we have looked at over the weekend.
Formula KGP is a very competitive championship that produces world class drivers and you can see that in the level of racing." The Formula KGP is a great package and has a superb engine which gives such competitive and entertaining racing."
"I knew it would be a huge jump in the deep end with not even having time to do any testing in Formula KGP prior to the weekend and the karts being more technical and a lot faster but was surprised how well I adapted to the initial speed and grip of the tyres and my times were competitive straight off.. Unfortunately we had a few initial problems with our kart but it was only to be expected first time out and they were soon resolved.
It was good at the weekend to have both dry and wet conditions to get the experience in the kart which is what I need. Being 11th quickest in free practice and in the dry conditions was a great feeling and together with two 13th place finishes in the finals, it has been a great weekend for myself and the Team who have worked so hard to get me here.
I will relish the challenge with Team NJL Racing for the remainder of the season in Formula KGP with the next round only a week and a half away on August 31st at Clay Pigeon down in Dorset and thank Andy Cox from KGP, Jade Karts and LPTENTS for all their assistance and support they gave us over the race weekend!"