Cameron Leason racing in the SuperOne Kart Championship
---
---
Northampton's Kart Star Leason to test for Maranello Karts in Italy
Northampton's Young kart star - Cameron Leason who was the youngest driver to enter Formula KGP this year has received an invite by Maranello Karts to test their latest kart for 2013. Cameron and Team Manger of NJL Racing will fly out to Milan this week were Cameron will have the opportunity to test the new Maranello kart at the famous South Garda circuit in Lonato.
The MARANELLO KART S.R.L. is a company specialized in the production, assembly and distribution worldwide of materials for high-quality rate Karts. Set up in 1996 near Maranello, from which it derives its name, but only in 1999 went into the world of the Karting market with its range of products. Now Maranello is one of the World's leading kart manufacturers, producing what drivers and Teams require for the competitive karting World...
Cameron added " It's a great privilege to get invited by Maranello to test their latest karts in Italy at the South Garda track. We have a couple of options for next year with regards what chassis we will be using within NJL Racing and my return to Formula KGP to challenge for the title in 2013 if we can raise the sponsorship. I just can't wait to get out there now to get a feel of the new kart and see what it can do and if it is suitable for us to use for next season"!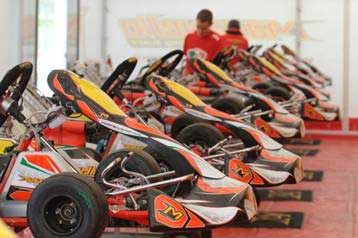 Team owner manager - Nick from NJL Racing commented " It's a great opportunity for the Team and Cameron to go to Italy to assess the latest Kart from Maranello for us to consider for 2013 and I would like to thank Laury Curran from Maranello UK for his kind invite. The Team are moving forward in a big way next season with our Formula KGP driver Cameron racing in The  British Super One Series and we want to have the best equipment to support him. It has been a difficult year for Cameron even though he has great natural talent and has shown very good pace this season we have found it hard to raise sponsorship this year.  I have been very pleased with Cameron and the teams progress this year in KGP and look forward to returning in 2013 to challenge for the title"..